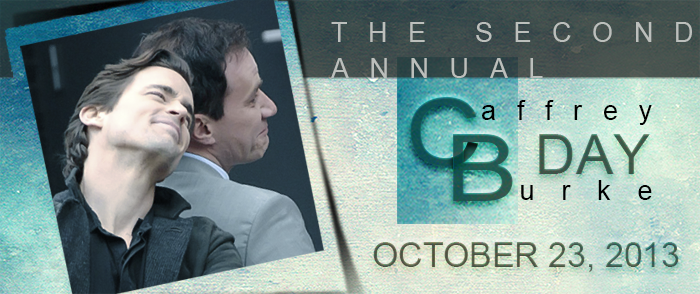 Is it that time again?

Yes, fellow Collars, the Fourth Anniversary of the airing of the White Collar Pilot episode is on October 23. Time for another round of Caffrey-Burke Day!

In case you didn't catch it last year, I will start with what Caffrey-Burke Day ISN'T: It's not a swap or challenge, there are no sign-ups, there are no rules. This is not Slash-only. It is not Gen-only.

What it IS is a celebration of the relationship we love so very much – the one that makes watching White Collar such a joy – however you choose to interpret it.

How can you participate? It's simple:

On or around October 23, publish a White Collar fanwork that focuses on or otherwise features the relationship between Peter and Neal. Any fanwork. Any subject matter. Any genre.

Then, when you cross-post or otherwise promote your work, merely include in the summary or author note that it is for "Caffrey-Burke Day".

That's it.

If you've got any questions, head to my comments, but I think it's pretty straightforward:

1. Create Neal-Peter works, any medium, any length, any subject matter

2. Publish on or around October 23

3. Mention it's for "Caffrey-Burke Day"

On October 24, I'll post a recap of all the submishes on my LJ (and here's last year's list for science! or something).

If anyone cares to signal-boost for this, please do!